Environmental 360 Solutions, Inc. (E360S) today announced it has acquired Infratech Sewer & Water Services Inc., headquartered in Sudbury, Ontario.
Formed in 2006 by Don Gunn, Infratech Services has been recognized as a leader in municipal, commercial and industrial sewer and pipe inspections across major cities in Ontario. Infratech offers cutting-edge technology, easy to understand field data, and comprehensive asset assessment which has allowed it be the sewer inspection service provider for some of Ontario's largest municipalities.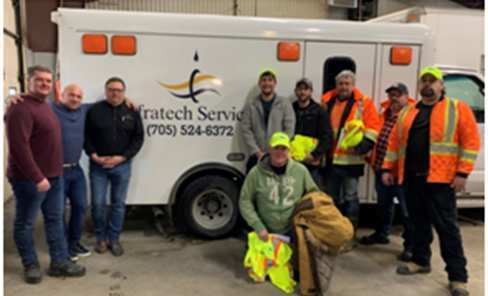 "I am pleased to welcome Don and the Infratech team to the E360S family. This partnership will enable Don and his team to expand their zoom camera inspection market across Canada as Infratech gains access to affiliate operations owned by E360S." said Danny Ardellini, Founder, President and Chief Executive Officer, Environmental 360 Solutions Inc. "Infratech enables E360S to expand its offering of environmental services and leverage the strong reputation and relationships that Don has established within the industry."
Infratech's founder, Don Gunn said "Merging with E360S will give Infratech Services, with its patented CTZoom Technology systems, the power to service the rapidly growing zoom camera inspection market being driven by asset management initiatives throughout Canada."
The operations of Infratech will be merged with E360S' existing Sudbury operations, leading to immediate operational synergies and cross-selling opportunities.
The acquisition of Infratech follows E360S' synergistic mergers of Waste-Co with its existing Red Deer operations, and Urban Impact's Calgary recycling, paper shredding, and organics division into its existing Calgary operations.
These latest transactions represent E360S' ability to densify its existing geographic footprint and realize operational synergies while expanding service offerings to its customers.
About Infratech Sewer & Water Services Inc.
Incorporated in April 2006, in Sudbury, Ontario, Infratech Founder, and President, Donald Gunn, C.E.T., has over 30 years of experience in the technical fields of municipal sewer and water maintenance and design. Formerly with the City of Hamilton, Mr. Gunn assisted in the formation of their Infrastructure Asset Management team. Mr. Gunn is a Certified Engineering Technologist and is PACP and MACP, LACP Certified for sewer condition coding.
About E360S Inc.
Founded in October 2018, by industry veteran Danny Ardellini, E360S is dedicated to becoming North America's leading and most trusted environmental management company. Growing through acquisition and organic initiatives, E360S provides environmental and waste management solutions to municipalities and industrial commercial and institutional customers. E360S is based in Toronto, Canada and operates throughout Ontario, Alberta, and British Columbia.
About Danny Ardellini
With 30 years of experience in the Canadian waste management industry, Mr. Ardellini founded National Waste Services (NWS) in January 2000. Starting with a single truck, the company grew to serving over 400,000 households in Hamilton, Toronto, Kawartha Lakes, Durham Region, and the County of Northumberland, as well as a number of industrial and commercial customers. NWS merged with GFL in 2008.
About Almada Inc.
Founded in 2017, Almada is a private equity / venture capital entity which focuses on companies in which it has a significant influence or controlling position. Almada utilizes the skills and experiences of the principals, namely Alon Ossip and Martin Goldfarb, to create a series of investments in different verticals. Extensive work has already been done in software, industrials, real estate, environmental management, self-storage and aviation. Since its founding, Almada has invested over $200 million. Almada is based in Toronto, Canada.