Environmental 360 Solutions, Inc. (E360S) today announced it has merged with Waste-Co Disposal Systems, headquartered in Red Deer, Alberta.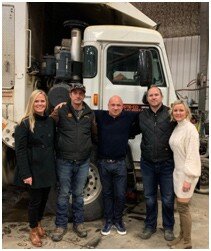 Waste-Co provides full-service solid waste disposal services to Red Deer and Central Alberta. The merger represents a strategic partnership with E360S' existing operations in Red Deer and offers significant operational synergies. Founders, Jon and Jeremy Blocksom, will remain with the business as key operating partners facilitating integration and providing complementary management capabilities.'
"I am thrilled to welcome Waste-Co's team to the E360S family. This partnership underscores the trust of Jon and Jeremy Blocksom in the E360S platform and our vision of being Canada's most trusted environmental management leader" said Danny Ardellini, Founder, President and Chief Executive Officer, Environmental 360 Solutions Inc. "This merger enables E360S to grow its portfolio of high quality assets and operating partners, the Blocksom brothers have created a tremendous business and reputation throughout Central Alberta and Western Canada."
Waste-Co's co-founders Jon and Jeremy said "Both of us and the Waste-Co team are excited to become the local representation for the E360S brand in Central Alberta and Western Canada. We will continue to go above and beyond delivering personalized customer service at every level possible. We look forward to contributing to the growth and future success that Danny and his team have envisioned for everyone."

The acquisition of Waste-Co follows E360S' synergistic tuck-in of Urban Impact's Calgary recycling, paper shredding, and organics division into its existing Calgary operations enabling E360S to provide its customers holistic waste management solutions.
These last two transactions represent E360S' ability to further expand market share in territories in which it currently has a presence and realize operational synergies.
About E360S Inc.
Founded in October 2018, by industry veteran Danny Ardellini, E360S is dedicated to becoming North America's leading and most trusted environmental management company. Growing through acquisition and internal expansion, E360S provides environmental and waste management solutions to municipalities and industrial commercial and institutional customers. E360S is based in Toronto, Canada and operates throughout Ontario, Alberta, and British Columbia.
About Danny Ardellini
With 30 years of experience in the Canadian waste management industry, Mr. Ardellini founded National Waste Services (NWS) in January 2000. Starting with a single truck, the company grew to serving over 400,000 households in Hamilton, Toronto, Kawartha Lakes, Durham Region, and the County of Northumberland, as well as a number of industrial and commercial customers. NWS merged with GFL in 2008.
About Almada Inc.
Founded in 2017, Almada is a private equity / venture capital entity which focuses on companies in which it has a significant influence or controlling position. Almada utilizes the skills and experiences of the principals, namely Alon Ossip and Martin Goldfarb, to create a series of investments in different verticals. Extensive work has already been done in software, industrials, real estate, environmental management, self-storage and aviation. Since its founding, Almada has invested over $200 million. Almada is based in Toronto, Canada.
Related Links:
https://e360s.ca
http://www.almadainvestments.com
For further information:
E360S Contact Danny Ardellini, dardellini@e360s.ca, 905-424-1608
Almada Investor Contact: Martin Goldfarb, mgoldfarb@almadainvestments.com, 416-833-1774
Media Contact: Paul Deegan, pdeegan@almadainvestments.com, 647-992-5522