Environmental 360 Solutions, Inc. (E360S) today announced it has acquired Napanee-based Manco Recycling, Inc. Financial terms of the transaction were not disclosed.
Manco is a full-service recycling, waste, organics, and processing company that operates a modern Material Recovery Facility (MRF) located in Greater Napanee that processes over 10,000 tonnes of recyclables annually. Founded in 1990 by Steve Webb with one truck and a dream, today Manco has 18 employees and 14 collection vehicles, and serves the counties of Lennox and Addington, Frontenac, Leeds & Grenville, Hastings, Prince Edward, and Northumberland.
"I would like to welcome Steve and his outstanding employees at Manco to the E360S team. Like all E360S employees, they are passionate about safety, the environment, and the customers and communities we serve," said Danny Ardellini, Founder, President and Chief Executive Officer, Environmental 360 Solutions Inc. "This acquisition is strategically important and positions us the continue our expansion, deepen our footprint, and make us the trusted environmental management leader along the attractive Port Hope to Cornwall 401 corridor."
"The team at Manco are very excited to be joining the E360S family," said Steve Webb, president, Manco Recycling, Inc., who will be joining E360S. "E360S is an experienced partner with the capital and commitment to grow the business significantly in Eastern Ontario."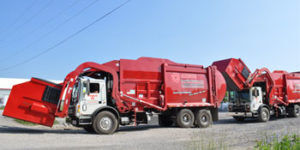 About E360S Inc.
Founded in October 2018, by industry veteran Danny Ardellini, NHL legend Paul Coffey, Dave Gurney, Jason Claxton, and Almada founders Martin Goldfarb and Alon Ossip, E360S is dedicated to becoming North America's leading and most trusted environmental management company. Growing through acquisition and internal expansion, E360S provides environmental and waste management solutions to municipalities and industrial commercial and institutional customers. E360S is based in Toronto, Canada and operates in Cornwall, Calgary, Red Deer, Medicine Hat, and Okanagan.
About Danny Ardellini
With 30 years of experience in the Canadian waste management industry, Mr. Ardellini founded National Waste Services (NWS) in January 2000. Starting with a single truck, the company grew to serving over 400,000 households in Hamilton, Toronto, Kawartha Lakes, Durham Region, and the County of Northumberland, as well as a number of industrial and commercial customers. NWS merged with GFL in 2008.
About Almada Inc.
Founded in 2017, Almada is a private equity / venture capital entity which focuses on companies in which it has a significant influence or controlling position. Almada utilizes the skills and experiences of the principals, namely Alon Ossip and Martin Goldfarb, to create a series of investments in different verticals. Extensive work has already been done in software, industrials, real estate, environmental management, self-storage and aviation. Since its founding, Almada has invested over $200 million. Almada is based in Toronto, Canada.
Related Links:
https://e360s.ca
http://www.almadainvestments.com