Environmental 360 Solutions, Inc. (E360S) today announced it has acquired Dufour Waste Disposal Inc., which operates out of Kapuskasing and Sudbury, Ontario. Financial terms of the transaction were not disclosed.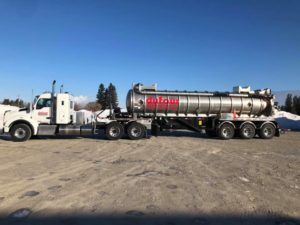 Dufour, which was established in 1964, boasts more than 70 pieces of equipment and more than 60 employees. In addition to being experts in the management and disposal of hazardous and non-hazardous waste, Dufour also provides: 24-hour spill response service; high-powered cleaning services, dewatering, water delivery, Hydrovac and brush cutting for construction and mining sites; services for remote residential clients' waste management needs; and equipment rentals.
"I am thrilled to welcome owners Dan and Miguel TaIlieur and their outstanding team to the E360S family. They share our commitment to safety, the environment, and the customers and communities we serve," said Danny Ardellini, Founder, President and Chief Executive Officer, Environmental 360 Solutions Inc. "This acquisition is strategically important in that it expands our footprint into Northern Ontario and gives us deep expertise in hazardous waste and emergency spill response."
"The entire Dufour team is pumped to join the E360S," said Dan Tailleur, co-owner of Dufour, who along with his son Miguel, will be joining E360S. "Danny and his team are hands-on operators, who know this business better than anyone. They have the capital and the passion to grow E360S into a very significant player in the industry, and we look forward to growing with them."
The Dufour acquisition follows closely on the heels of the purchase of Manco which closed on July 5, 2019. Manco, located in Napanee, is an exciting addition to E360S' s recycling and other operations.

About E360S Inc.
Founded in October 2018, by industry veteran Danny Ardellini, NHL legend Paul Coffey, Dave Gurney, Jason Claxton, and Almada founders Martin Goldfarb and Alon Ossip, E360S is dedicated to becoming North America's leading and most trusted environmental management company. Growing through acquisition and internal expansion, E360S provides environmental and waste management solutions to municipalities and industrial commercial and institutional customers. E360S is based in Toronto, Canada and operates in Cornwall, Napanee, Calgary, Red Deer, Medicine Hat, and Okanagan.
About Danny Ardellini
With 30 years of experience in the Canadian waste management industry, Mr. Ardellini founded National Waste Services (NWS) in January 2000. Starting with a single truck, the company grew to serving over 400,000 households in Hamilton, Toronto, Kawartha Lakes, Durham Region, and the County of Northumberland, as well as a number of industrial and commercial customers. NWS merged with GFL in 2008.

About Almada Inc.
Founded in 2017, Almada is a private equity / venture capital entity which focuses on companies in which it has a significant influence or controlling position. Almada utilizes the skills and experiences of the principals, namely Alon Ossip and Martin Goldfarb, to create a series of investments in different verticals. Extensive work has already been done in software, industrials, real estate, environmental management, self-storage and aviation. Since its founding, Almada has invested over $200 million. Almada is based in Toronto, Canada.
Related Links:
https://e360s.ca
http://www.almadainvestments.com