E360S COBOURG WASTE MANAGEMENT SERVICES
Address:
640 Victoria Street, Cobourg, ON, K9A 5H5
OIL RECLAMATION
Environmental 360 Solutions Cobourg, previously Chem-Ecol (since 1975) is a manufacturer and specialty blender of new and reclaimed industrial oils and lubricants. In addition, we are the leading oil reclamation company in North America.
We set ourselves apart from the competition with our exclusive oil reclamation process, designed to maintain your oil's peak performance and meet your exacting specifications. We service companies in all major industrial segments and lead the industry by enabling our customers to control cost, improve quality and minimize their environmental risk.
By using our services, you can achieve the following benefits:
Control Cost: By purifying your oil with us you could save up to 40% on your new oil purchase costs. In addition, you will also save close to 100% of your disposal costs.
Improve Quality: Once our purification process is successfully completed, the quality of your oil will be like new, ensuring that it is ready for use in your machinery.
Transport Responsibly: We are proud of our excellent transportation rating. We are here to help you and minimize your liability. We ensure that your product is transported safely and in compliance with all applicable regulations.
MOBILE PURIFICATION
On-site purification is ideally suited to systems that have become contaminated but remain in
operation. Cleaning the machine while in operation allows both the oil and equipment to be cleaned simultaneously.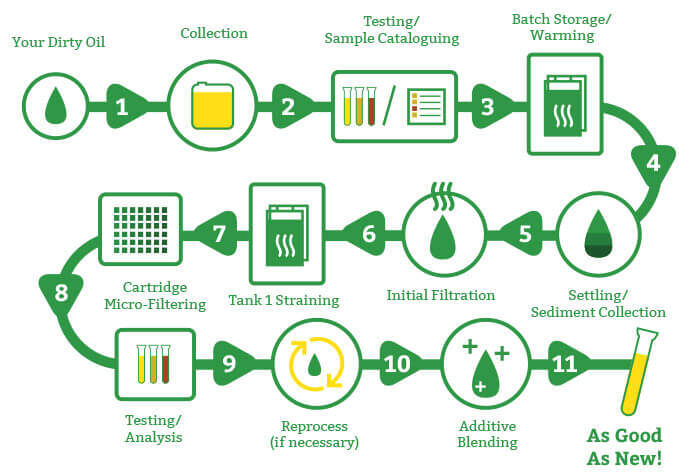 Common Oils that can be purified include:
Hydraulic Oil
Heat Transfer Oil
Quench Oil
Stamping Oil
Cutting Oil
Transformer Oil
Turbine Oil
Drawing Oil
LUBRICATION PARTNER
At E360S Cobourg, we are your single source lubrication partner, providing a closed loop management program for your oil and lubrication needs. Whether you work with new oil, reclaimed oil or a combination of both, we will partner with you from delivery to end of use, ensuring you require only a single point of contact to manage all of your oil and lubrication needs.
Our lab is designed to formulate oils and lubricants for your specialized tools and applications. Once formulated, our industrial facility will manufacture your specialty blends at any scale required including pails, drums and bulk tankers. In addition, existing customers are assured of a 48 hour turnaround time guarantee when they place a repeat order.
Waste Disposal Management
We are available for all your waste management needs, including identification through analysis, waste profiles, inventory, transportation, recycling and final disposal.
Compliance Training
We offer compliance training through our qualified instructors on a broad range of regulations including transportation, environmental, and health and safety.
Liquid Containment, Absorbent and Storage Products
We have partnered with a leader in the industry to distribute a range of products for workplace safety and spill control including wipers, mats, socks, berms, containment skids and platforms, and drum handling storage products.
Industrial Cleaning/Vacuum Service
If you need vacuum services, we are available for pressure washing, tank cleaning and removal, oil water separator cleaning, and drain, sump, pit and trench cleanouts.
Technical Services
We offer lab packing, and sampling and analysis as part of our suite of technical services.
Automated and Manual Parts Cleaning
For all your parts cleaning needs, we offer a wide selection of parts cleaning equipment for solvent or aqueous based cleaning.
For more information on how we can help you, contact us at 1-800-263-3939.